History of Tucker Hill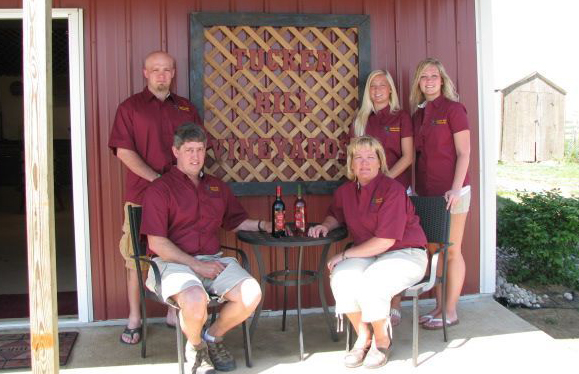 Tucker Hill Vineyards officially opened to the public on May 29, 2009. However, the start of this venture goes back a little farther.
Barry's interest in making wine started in the late 1990s. His family gave him a home wine making kit and he processed his first batch of wine in 1998, a Chardonnay. From there he furthered his fascination with this hobby by researching online and through reading materials. In 2001, we joined the Iowa Wine Growers Association to learn more about this fascinating industry and to gain knowledge from people who were already involved.
In 2002, when we moved to our current location, we planted the first grape vines. There were five different varieties: Niagara, Esprit, Marechal Foch, Concord and Landot. We continued planting vines the following year and added LaCrosse and Frontenac to the mixture. We currently have approximately 550 vines growing, which has the potential to produce roughly 500 gallons of wine per year.
Once we started growing the grapes and realized how much wine that would produce and the equipment needed to produce it, we decided to open the winery. We constructed the building and finished the inside over a two year time frame. Once completed, we were open for business. On May 29, 2009 Tucker Hill Vineyards was born.
Our current building consists of a tasting room and processing area along with an event room that can hold approximately 65 people. We host a variety of events such as bridal showers, baby showers, prenuptial dinners, graduations, family reunions and corporate events. We have hosted several weddings ranging from small, intimate gatherings to large, outdoor affairs.
As our venture continues to grow, we think it will be fun and exciting to see how the history pages of Tucker Hill comes to life.